CROSSMAGLEN RANGERS: G.F.C. & A.C.
by

Con Mac an Ghirr
Reproduced, with the Society's permission, from the 1987 Journal of The Creggan Local History Society
---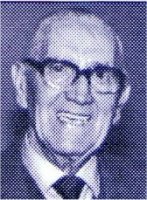 This year of our Lord 1987 Crossmaglen is celebrating one hundred years of affiliation to the Gaelic Athletic Association, first as the Red Hands, then as Creggan Rovers; and since 1909 as Crossmaglen Rangers. There were political influences in the changes of name, and there were political reasons for the occasional breaks of continuity of affiliation (from 1888 until 1905; and from 1919 until 1923). In an area of traditional and historical disaffection and dissention, such political `breaks' could hardly be avoided. One lesson derived from them all however is that Gaelic Football and politics make bad bedfellows.
The Gaelic Athletic Association for the Preservation and Cultivation of National Pastimes was founded in Hayes Hotel, Thurles, Co. Tipperary on 1st November, 1884; principly by Michael Cusack of Co. Clare and Maurice Davin of Co. Tipperary. In its many teething troubles it was staunchly supported by its first Patrons: Archbishop William Croke of Cashel; Charles Stewart Parnell - leader of the Irish Party in Westminister; and Michael Davitt, founder of the land league. Michael Cusack compared the early spread of the GAA to a prairie fire, and in a short time Dundalk Young Irelands, and all Co. Louth, became imbued with this initial excitement and enthusiam.
Crossmaglen, and South Armagh, at that time had many business and family associations with Dundalk and thus on the first of October issue of the `Dundalk Democrat' 1887 it was stated that Crossmaglen Red Hands had offically affiliated to the GAA. `The Democrat' was quoting from `The Gael', then the official organ of the early GAA. `The Gael' unfortunately only lasted from January 1887 until September of that year, and consequently the official affiliations of the other parish teams, such as Corliss Mitchels, Carnally, William Orrs, Shelagh Kickhams, Mobane and Culloville William O'Briens are not recorded. It is probable that these clubs were founded in late 1887 or 1888. The honour of being the first GAA Club in Co. Armagh, however, falls to Drumintee, who affiliated in February 1887, according to `Sport', a Dublin sporting newspaper.
Dundalk Young Irelands were extremely helpful in those early years with coaching and refereeing and soon the Red Hands were taking part in eight club tournaments; at home, in Donaghmoyne, Inniskeen, Shelagh etc. They did not, however, take part in the first Armagh County championship in 1889, nor were they represented at the first Armagh County convention on 24th March, 1889. The Irish Republican Brotherhood, (the IRB: father of the later IRA), generally known as The Fenians and of which there was a strong branch in Crossmaglen, had looked with favour on the infant GAA, principally because of it's `Irish Ireland' stance and also as a possible source of membership. It was widely alleged that this prohibited secret society had infiltrated the GAA at all levels, and this caused a widespread chorus of condemnation of the GAA all over the country and particularly in Co. Armagh. In January 1889, in his first Lenten Pastoral, Archbishop (later Cardinal) Logue, condemned the GAA for the demoralising influence it had on its members; and a Father Rooney, preaching in Newry Cathedral in April 1889, called the GAA "a curse to society and a cloak for secret societies". Playing football on Sundays was widely condemned and pitches were widely refused to clubs, with the result that clubs collapsed in many areas long before the famous Parnell `split'. John McEaney, the Bard of Callinberg - 1923 - stated that the GAA was in agony in 1890 because of drink and emigration, and the emigration figures for Co. Armagh between 1881 and 1901 are indeed startling. The population fell by a massive 39,939 and it would not be grevious to assume that many of those emigrants were from Creggan and the surrounding parishes. Consequently the GAA in Crossmaglen was not in a fit state to withstand the troubles and tribulations which followed the Parnell split of 1890-1891. The GAA in general took Parnell's part and this led to further clerical condemnation: The GAA in Crossmaglen and in the surrounding areas, collapsed completely; and from 1890 to 1904 the GAA was dead.
The principals of that first Red Hand's club were, Old Francey McArdle, Carron Road, (Chairman); Jemmy Donaghy, Newry Street, (vice-chairman and captain); Joseph M. Morris, Bakery North Street now McConvilles Chemists, (secretary); and Owen Treanor, The Square, (treasurer).
An unaffiliated club called Crossmaglen Rovers is reported in 1904, and then came the second Red Hands, formed in 1905. The principals behind their revival were Tom Gribben a teacher in Crossmaglen boy's school and a native of Desertmartin, Co. Derry; and Denis Gallagher first manager of Crossmaglen Co. Operative Society (The Creamery), a native of Sligo. The Red Hands soon became a match for the best in the country and won the first county championship for the town in 1906, beating Camlough Shane O'Neills in the final. In 1907 they lost the championship to Bessbrook Geraldines, but won the McKillop Cup recently presented to the Co. Branch by William McKillop M.P. for South Armagh and a native of Glasgow. The McKillop Cup was originally a league trophy and Crossmaglen Red Hands were the first winners.
Political controversy split the Red Hands and a new parish club emerged called Creggan Rovers, which won the 1908 championship and the McKillop cup of 1908/1909. More political controversy followed and in late 1909 emerged Crossmaglen Rangers with their equally famous amber and black `gansies' which jerseys were usually called in those far off days. Rangers soon made their presence felt, and won the championship and the McKillop Cup League Competition in 1911, 1912, 1913. In fact they played over forty matches in succession without suffering one defeat in those years.
The period from 1914 to 1922 was barren except for one McKillop Cup victory in 1916, the final of which was played in 1917 in Newry, with the proceeds going to the local Cathedral. Another political row split both the Rangers and Culloville Blues in 1918 and from that row emerged two political teams, the Sinn Fein, Crossmaglen Plunketts, and the Hibernian Clonalig Dillons. Clashes between these two teams were tough and uncompromising but neither managed to win a County Championship. The Dillons however won the 1919 McKillop cup competition in January, 1920. From then until early 1923 there was not an official Gaelic Football match played in Co. Armagh because of the War of Independance (1919-1921); and the Civil War in the Free State (1922-1923); in which many gaelic footballers from the parish were heavy involved.
When official competition resumed in 1923 two teams emerged in Crossmaglen. The Rangers and the Geraldines. The two teams met in the county final on 22nd July, 1923 and Rangers won rather easily by 0.9 to 0.2. The curse of emigration to USA intervened in 1924 and both clubs were forced to amalgamate. Four clubs at most took part then in the county senior championship, and Rangers proceeded to win it for the next four years, making this run of success the only five in-a-row of county championships (1923-1927) won by any club in the country. The McKillop cup had been unearthed in 1925 and was won that year by Armgh Young Irelands. It alternated then between Rangers and Young Irelands until it was transferred to the Co. Senior football championship in 1931. Ranger's next senior championship success was in 1933 and was followed by similar success in 1936 and 1937. Rangers had also won the 1935 senior football championship, but lost it on an objection.
The second world war years were difficult for the Rangers, with shortages of foodstuffs, the blackout, smuggling; all of which made preparation for games very difficult. Between 1940 and 1946 Rangers lost five senior championship finals. Their only success of the decade came in 1947 when they won both the McKillop Cup and the county league title. They also won the latter in 1948, but from then until 1960 Ranger's years of glory completely faded. In fact the fifties is the only decade since 1900 that Crossmaglen has failed to welcome home the McKillop Cup.
The sixties were easily the greatest decade of glory and achievement ever for Crossmaglen Rangers, even if it was not without its share of trauma as well. Five championships 1960, 1962, 1965, 1966, 1967, (which but for a mishap or two, should have been eight), plus several league succsses, against generally tough opposition, marked this decade as an outstanding one; and John Martin, manager, and his talented players placed Crossmaglen on a high pedestal in the county annals. Success since then has come in singles: 1970, 1975, 1977, 1983, 1986, but no less welcome for that. In addition Rangers won the under 21 Co. Title and the Minor Co. Title of 1977, a unique treble.
Crossmaglen Rangers have also contributed much to the county and provincial fortunes since 1887. Big Oiny Martin was the first Crossmaglen man to wear the county jersey in 1905 in an epic ulster football final, which went to three games. From 1906 until 1921 no county team fielded without at least half a dozen Rangers. Rangers had ten players in both the 1922 and 1923 county selections, and supplied six of the All-Ireland junior football champions of 1926: Gene Hanratty (Captain), Jamesey Kernan, Harry Cumiskey, John McCusker, John Donaghy and Jemmy McEntee (substitute). A similar situation prevailed on every county team almost since then and apart from a senior football All-Ireland medal, members of Crossmaglen Rangers have won every football honour in the game. Thomas McCreesh apart from winning several Railway Cup medals won the equivalent of an all Star when he was named on an All-Ireland selection in 1970. Gene Morgan was an all star in 1954. Joe Kernan got two all star awards, 1977 & 1980 and a replacement in 1982, as well as several Railway Cup Medals. Frank Kernan won an All-Ireland Minor Football medal with Armagh as well as an Ulster Senior medal in 1953. Ulster Senior championship medal holders also include Gene Morgan (2) Joe Kernan (3) Bertie Regan, Larry Kearns, Hank Kernan, Aidan Short and Michael McConville (one each).
The rest of the Junior and Minor Ulster football medal holders is rather too lengthy for a short article like this.
On the administrative side Crossmaglen Ranger's contribution to the County Scene is not quite so impressive. The fact that Crossmaglen was rather far away from the hub of GAA affairs in the county probably prevented many worthy Crossmaglen men from seeking positions on the Co. Board in the past. Never the less their contributions at Co. Board meetings and at Co. Conventions were always valued and appreciated. Pat Eardley was the first Crossmaglen man to be appointed Co. Chairman 1909-1910; to be followed by John O'Reilly 1977-1981 and again in 1987. Gene Larkin was chairman of the Co. Football Board from 1977 to 1980 and currently is vice president of the Ulster Club Council while Con Short was president of the Ulster GAA Council 1977-1980 and vice president of the GAA during the same period.
St. Oliver Plunkett Park was officially opened on 19th April, 1959 and for many years was a popular county ground. The occupation of the local RUC Barracks in 1971 by a British Army Unit, started a saga of confrontation and conflict between the Ranger's Club and the British Army, which has prevailed since then. Not alone was the pitch partially occupied but the entrance to the playing area was turned into a quagmire by heavy army vehicles. Harassment of club officials was constant and helicopters regularly landed on the pitch even during games. Motions condemning the occupation of the pitch regularly appeared on Co. Convention, Ulster Convention and Annual Congress agenda; and Gene Larkin, for many years Ranger's chairman, exposed this blatant persecution, in clear and concise speeches.
Eventually after fourteen long years of agitation the British Government concede the illegal trespass and awarded Crossmaglen Rangers damages of £150,000 plus costs. This is only payment on account and the present chairman Gene Duffy and his committee have no intention of allowing the agitation against the occupation to rest until there is complete evacuation of Ranger's property.
Crossmaglen Ranger's Committee in this their centenary year is as follows. Honorary Presidents (2) Cardinal Tomas O Fiaich and Thomas Cassidy; Chairman: Gene Duffy; ViceChairman and Oifigeach Gaeilge: Eddie Hughes; Secretary: Ohver Short; Assistant Secretary: Pat Cumiskey; Treasurer: Michael McShane; Assistant Treasurer: Jim Armstrong; Development Officer: Gene Larkin; P.R.O.: Thomas McKenna; Scor Officer: Peadar McCoy; Youth Officer: Tim Gregory; Executive Members: Tom McKay, Charlie Hughes and Gene Murtagh. Youth Members: Michael Moley, Shane Kieran and Kieran O'Connor. It is patently obvious that the future of Crossmaglen Rangers GFC Club, is in eminently good hands.
---